GRP / Fibreglass Roofing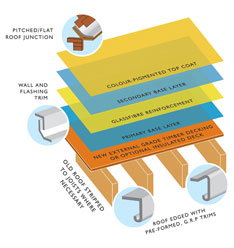 GRP (Glass Reinforced Plastic) is just different name for a Fibreglass and it's made from fibre reinforced plastic using glass fibre. The fibres may be randomly arranged, flattened into a sheet or woven into a fabric.
Fibreglass is combined with catalysed resin to form a strong and durable composite. GRP Fibreglass is durable, flexible, waterproof and lightweight material and that's why is perfect for flat roofs. GRP Roofing can be used for both domestic and commercial properties, being suitable for the likes of sheds, garages, extensions and balconies as well as schools and hospitals.
The Avant-Seal Fibreglass Flat Roofing Solutions is robust and aesthetically pleasing to the eye. We can provide a non-slip finish that is suitable for balcony's or roofs that have foot traffic. The entire roof surface and edge detail are formed as one continuous membrane which bonds to the new roof deck, effectively encapsulating your flat roof in a monolithic skin which contains no joints. This is ideally suited to simple or complex roof designs with lots of protrusions, such as sky lights. A Lead roof look alike reproduction is also possible if required.
GRP Flat Roof
We create a five-layer glass reinforced polyester membrane, applied in situ upon the deck area which is cold-formed without the use of flames or heat. Our installation process ensures that every roof is constructed to stand the test of time. First, we normally strip the old roof back to the supporting structure which is often timber joists and then form a new roof deck using 18mm thick tongue and grooved boards. Once re-decked, we apply fibreglass profiled trims to all edges of the roof to ensure nice smooth lines. The main deck area of the roof is covered using a liquid resin-based system which is reinforced with fibreglass matt. We use a thicker fibreglass matt that exceeds the industry norm of 450gm, which gives a thicker and stronger layer with no joints. We then apply a finishing coat of tough protective polyester topcoat which can be specified in a colour of your choice.
Fibreglass Flat Roofing
Not only does a GRP flat roof does look good, but it also comes with a 30-year guarantee and is maintenance-free. In our experience, a professionally applied fibreglass roof will last a lot longer than the 30 years. Compared to an average life expectancy of bitumen based materials, the life expectancy of a fibreglass roof is far greater than other flat roof products making it a cheaper option on a year by year basis.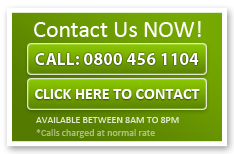 Our GRP Fibreglass roofing system is applied using the latest techniques and technologies. We want our products to last so we work closely with one of Europe's largest resin manufacturers. We never use recovered or re-blended resins which reduce the quality and durability of the roof.
SYSTEM BENEFITS
Aesthetically Pleasing
Strong & Durable Seamless Installation
Non-slip Finish Option Ideal for Balconies, Terraces & Walkways
Lead Roof Reproduction
Choice of Colour
Energy-Efficient Roofing
Can Incorporate Insulation
New Build or Refurbishment
Cold Applied
30 Year Guarantee