Flat Roofing Products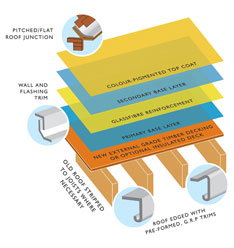 Avant-Seal Fibreglass Flat Roofing solutions are tough and visually pleasing at the same time. Avant-Garde Roofing can supply a non-slip surface that is appropriate for balconies or flat roofs subjected to foot traffic. The entire roof surface and edge detail are formed as one constant covering which bonds to the new roof deck, encapsulating your flat roof in a monolithic skin and there are no joints. Not only does fibreglass flat roofing look good but it comes with a 25-year guarantee. From our years of experience, a professionally fitted fibreglass flat roof will last longer than the 25 years guarantee.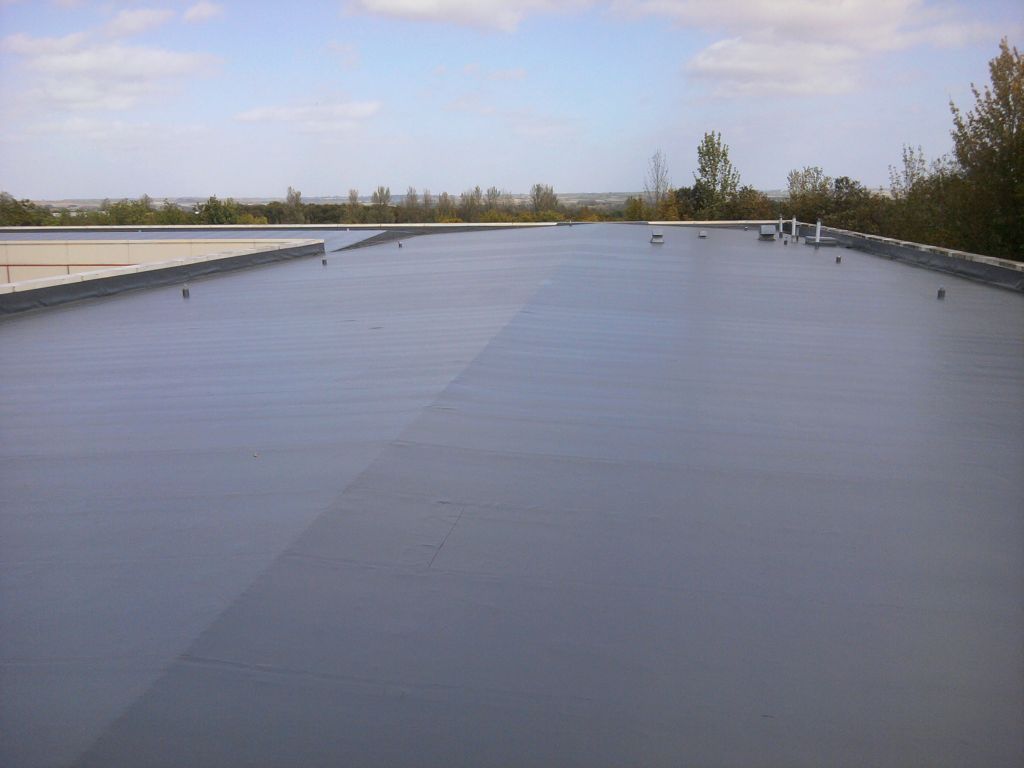 Single ply flat roof membranes have become increasingly popular as an alternative to traditional flat roof coverings such as felt. Single-ply membranes are the most commonly used flat roofing material for modern-day new builds. Until recently they have become more accessible to the domestic and refurbishment market. Single-ply flat roofing involves using an impermeable membrane shaped by laying and joining strong, flexible sheets to produce a constant waterproof barrier across the surface of the flat roof. These roofing sheets are connected together by using heat gun to create a watertight weld. Single Ply Flat Roofing does not necessitate post-installation maintenance applications such as paints or re-saturates to ensure their condition is maintained.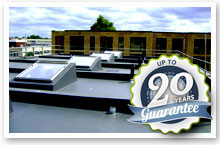 The Kemper Waterproofing System comes highly recommended above other products. Over time this system has maintained a proven track record for being reliable and in all sorts of weather conditions throughout Europe. Whether your requirements are for a new build or repair, there will be a Kemper roofing product offering consistent, long-standing protection against the elements. The versatility of the Kemper Flat Roofing System is something we really love about this product. We are able to use this system on all kinds of roofing including flat roofs, garages, balconies, terraces and walkways through to car parks. There are Kemper products appropriate for internal applications and wet rooms, fountains and water features. The finish is outstanding and it will bond to almost all surfaces.
Green Roofs have been increasingly more accessible over the last 20 years and offer a great ecological and aesthetic solution for creating a flat roof. More and more emphasis has been put on sustainable and eco-friendly building materials and a green roof is a perfect accompaniment. Green Roofs offer many advantages compared to the conventional materials, these include better soundproofing, they blend into the environment, heating bills are reduced, the life expectancy for waterproofing is increased, they produce oxygen and less rainwater runs off the roof.
Avant Roofing Solutions use Eurocell to supply us with top quality UPVC fascia and guttering for all our flat roofing projects. This is a product we have used for years and we are very familiar with its possibilities and limitations, the quality is fantastic. Due to the latest in thicker insulation technology, a new facia is often needed and the guttering repositioned.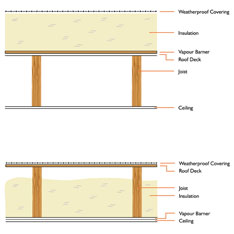 Insulating a flat roof can create real benefits, a warmer room in the winter and cooler in the summer as it works both ways, lower energy bills and improved carbon emissions. There are two methods for constructing insulation in flat roofs. Cold Deck Flat Roof insulation Construction is the most commonly used but it is the least thermally efficient. It uses fibreglass wool to fill the voids between the joists and this was a popular option many years ago. Nowadays people tend to use Warm Roof Flat Roof insulation Construction which is the advised method how not all roofing structures can accommodate this. An advantage for using this method of insulating is that it alleviates the formation of condensation in the roof void, and complies with current building control regulations.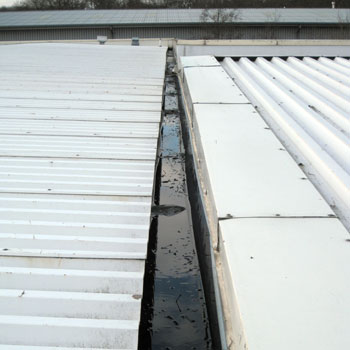 Avant-Garde Roofing is proud to announce we are approved installers of the Plygene Gutterline system for commercial flat roofs. This is the original and best product for stopping leaks in the guttering. Plygene Gutterline has many advantages, it can be made so it has a bespoke fit for your gutters, it is supplied on a seamless, joint free roll, no messy adhesives required, it can be used on any type of gutter old or new, custom moulded outlet fittings to your exact requirements and it comes with a 20-year guarantee.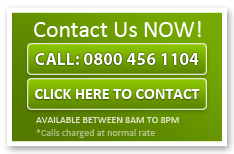 Please scan our QR Code to add Avant Garde Roofing Solutions Contact Details straight to your phone.