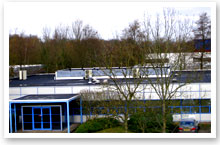 There are different types of commercial flat roofing, including a single ply flat roof, fibreglass and a Kemper reinforced liquid system. The size and type of building is important before you decide on the right system for your needs. For example, fibreglass roofing requires a great deal of labour work, and this is not always suitable for a large school building.

A single ply roof is lightweight and economical when it comes to covering large areas, while a Kemper reinforced liquid system is ideal if you have a roof with various obstruction such as bulky rooflights or ventilation stacks. Avant-Garde can install any one of these systems, and we'll even help you decide on the right one for your commercial property.

A Kemper system can work for brand new buildings and those that are older, possibly requiring repairs, while its wet on wet application offers exceptional performance and a fluid appearance. Avant-Garde provides customers with the latest, proven commercial flat roofing systems, and we never use sub-contractors to carry out any roofing work on our behalf.

To speak to our team about your commercial flat roofing requirements, contact us today on 0800 456 1104, or email us at info@avant-garde-roofing.co.uk.