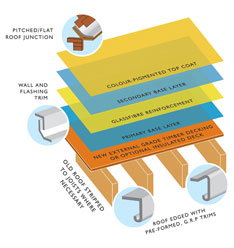 Fibreglass roofing is one of the most popular flat roof solutions, and that's because it stands the test of time - especially when it's fitted by professional flat roofing contractors.

Avant-Garde is involved in the TrustMark scheme, which only approves reputable and trustworthy tradesmen, while we're also CompetentRoofer accredited and a partner of Local Authority Trading Standards Services. We always take health and safety seriously and our fibreglass roofing projects never include the work of sub-contractors.

Our Fibreglass Flat Roof includes a cold-formed five-layer glass reinforced polyester membrane, while the main deck area of the roof is covered using a liquid resin-based system, which in turn is reinforced with fibreglass matt. We work closely with Europe's largest resin manufacturers and never use recovered or re-blended resins, so our clients are guaranteed optimum performance.

Our experienced team use the very latest techniques and technologies, and we can provide a non-slip finish for balconies and terraces, while there's a choice of colours and the option of a lead roof reproduction.
To learn more about our professional fibreglass roofing service, get in touch with us today via email or by calling 0800 456 1104.