Below we've listed just a few of the main advantages:
- Looks smart and tidy.
- Cost effective.
- Low maintenance.
- Strong and durable.
- Non-slip finish option is perfect for balconies, terraces and walkways.
- A choice of colours.
- Energy efficient.
- Insulation can be incorporated.
- Perfect for new builds or refurbishments.
- Ideal for commercial and residential properties.
- Cold Applied.
- Very long lifespan (we offer a 30 year guarantee).

What's in a fibreglass roof and how is it installed?
A typical fibreglass roof includes 5 key components: roofing resin, fibreglass matting, roofing topcoat, GRP roofing trims and ancillary tools.
At Avant Garde Roofing, we create this five-layer glass reinforced polyester membrane in upon the deck area, which is cold formed without the use of flames or heat. When replacing an old roof with a fresh new fibreglass membrane, we work to strip the existing roof back to the supporting structure, which is often timber joists, and then form the new roof deck using 18mm thick tongue and grooved boards.
Once we've re-decked the area, we apply fibreglass profiled trims to all edges of the roof and this helps to ensure nice smooth lines. The main deck area of the roof is then covered with a liquid resin based system, which is reinforced with fibreglass matt. Following this, we use a thicker fibreglass matt that exceeds the industry norm of 450gm. This guarantees a thicker and stronger layer with no joints. The finishing coat is a tough protective polyester topcoat, which can be specified in a colour of your choice. Having been installing fibreglass roofing for more than two decades, we know that the life expectancy of a fibreglass roof is far greater than other flat roof products, making it a much more affordable option, especially if you look at it on a year by year basis.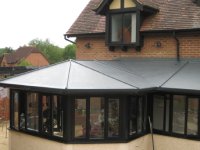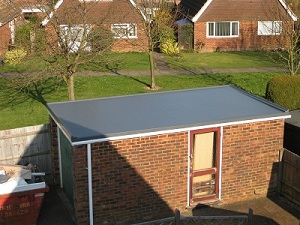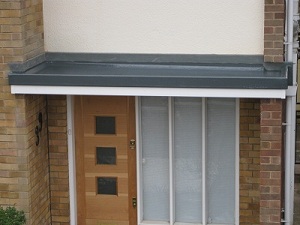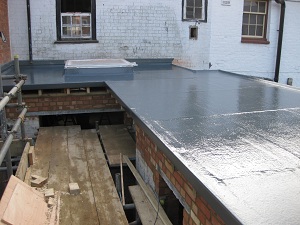 We've already touched on the fact that this type of roof is very easy to maintain, and just from brushing or hosing the roof, you can keep it looking clean and in good shape. We've installed this membrane to schools, hospitals, supermarkets, houses, office blocks, flats and garages, and this is by far one of the most proven, reliable flat roofing methods, especially when you choose an experienced, professional and reliable flat roofing contractor like Avant Garde. Being purely family owned and run, we do not employ sales people. Our clients therefore benefit from knowing they are dealing with a decision maker right from the initial survey, installation to completion of the project.
Final words on our very own fibreglass roofing system
Our fibreglass roofing membrane is applied using the latest techniques and technologies. We work closely with one of Europe's largest resin manufacturers and we would never use recovered or re-blended resins, which reduce the quality and durability of the roof.